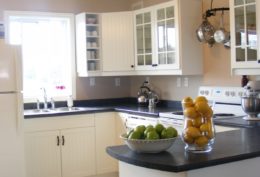 ---
When selling a home, a kitchen that is appealing is a selling point. Here are some tips on getting your ready to sell:
Minimize – Make it look like a show room instead of "your kitchen". Buyers are looking for a blank slate to make it their own. Clean off the fridge photos and any art work the kids may have.
Counter space – Buyers want to see lots of counter space. So pack it up and put it away. Once the space is clear, add one or two decorative focal points.
Deep clean – Deep clean every appliance, maybe that means getting out that toothpick to get the grime in the corners. Organize everything under your kitchen sink. Look under your hood or microwave and even your ice maker. When you get on your knees your view is so different.
Finishing touches – open up the blinds or curtains, replace bulbs with bright LEDs. For more budget friend options, set the table to add a pop of color.